Video Editing: Creative Project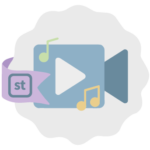 Software you could use: Premiere Pro, Davinci Resolve, Final Cut Pro
Description:
Earners will create an original video using a video editing software.
Badge Criteria:
Create an original video of at least 1-2 minutes in length

Must include at least 2 of the following:

Masks
Added/edited transitions
Editing with keyframes
Color adjustments (Lumetri in Premiere, Color tab in Davinci, or equivalent)

Take a screenshot of your final timeline
Export video as .mp4 (H.264) file
Write a short reflection describing your creative process. List the program(s) and specific tools used
Resources Available:
What to Submit:
Create a shared folder in Google Drive or Box with the following items:
Final Video File
Screenshot of workspace
Written reflection describing your creative process for this project, list program(s) used as well as specific tools used in said program.
You are welcome to create any project that meets the badge requirements. However, we have come up with some possible scenarios to get you started if you need them:
Merch! Your friend's YouTube channel has really gotten popular and now she's selling merch. Make her a promotional video, easily shareable on social media. 
Your friend's band just released a new single. Make them a music video!